A tribute to Brian Cobby – voice of the Speaking Clock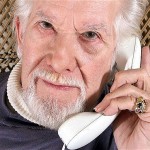 I was saddened to learn of the death of Brian Cobby who recently died aged 83 following a series of health problems. Brian's voice was heard an estimated 2 billion times between 1985 and 2007 as the official British Telecom Speaking Clock. His unique, crisp, baritone voice as the nation's Speaking Clock was (and still is) instantly recognisable. He liked to think of himself as "Briannia's wristwatch."
Brian's career spanned many decades as an actor and professional voice-over artist. It was during his time as an assistant supervisor at a British Telecom exchange in Withdean, Brighton in 1984 when he entered a competition which 5,000 people entered to become the nation's next speaking clock. He was picked out from 12 finalists.
I always wanted to meet the person behind the speaking clock and had the pleasure of meeting Brian for the first time at his home in Brighton back in 2006. I found him to be a decent and kind man with a great sense of humour. It was also fascinating to hear some of his many anecdotes from his acting career. I saw him again a few years later and was pleased to see that he was still doing voice-over work and embarking on other projects.
As his voice suggested, he was a true gentleman and a unique character. He will be sorely missed by all that had the privilege of  knowing and working with him.