My tribute to and memories of Margaret Thatcher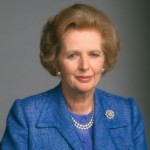 I have been spending the last few days reflecting on Lady Thatcher's legacy and what it meant for me.  Her very sad passing has only just begun to sink in for me.
I think my earliest political memory was characterised by watching television aged 5 or 6 and seeing a rather formidable looking lady with large hair and an imposing presence dominate the TV screen during the news. My first discussion involving Mrs Thatcher was when I was at school aged about 6. For some reason in the cloakroom while hanging up our coats, I was talking about favourite politicians with a fellow classmate. I don't know if we actually referred to them as 'politicians' but they were definitely who we discussed. He asked me who mine was. I said 'Margaret Thatcher.' He said he liked Douglas Hurd. Looking back, it was quite a remarkable conversation for a pair of 6 year olds to have – the idea that these people were even on our radar at such a young age is intriguing to say the least. Margaret Thatcher was mesmorising and her emitting presence caught me and many others at a very early age.
This undoubtedly triggered my interest in politics and I remember vividly watching her leaving Downing Street for the last time in 1990 on an old television that seemed to date back to around the time of James Callaghan. I was thinking to myself, "What now, what a shame, things will never be the same, is there a way of getting her back?" despite not fully understanding what was going on.
Margaret Thatcher showed the people of this country that it doesn't matter where you come from. What matters is where you are going and that there should be no barrier to success and opportunity plus no limit to what anyone should be able to achieve. She showed the importance of having conviction and beliefs and following through on those. She showed the importance of having a vision and striving for excellence. Thatcherism was and is about rising above the circumstances of your birth to fulfil your potential and live your dreams. She was the embodiment of social mobility and meritocracy. What is also quite extraordinary is how she managed to reach the top of her game in three fields – science, law and politics. That is a phenomenal achievement – almost superhuman. Most people would only dream of getting to quarter or half way up the ladder in one of those fields, let alone the top of three. We all know about her achievements for this country. We all know what Britain was like in 1979 and how she turned Britain around so that she became a world class power again – not only economically but also culturally and in foreign relations. But above all, what I admired most about her was her unconditional, unapologetic show of patriotism. This resonated with me and so many others. She loved this country and would not let anything or anyone stand in the way of British interests.
I was very fortunate to be able to meet Lady Thatcher several times since joining the Conservative Party. 14 years on from her departure as Prime Minister, I was immensely privileged and honoured to be able to organise a reception with Conservative activists to commemorate her 25th anniversary since becoming Prime Minister. This was a hugely memorable evening. The room was so packed, one or two people fainted from the sheer heat in the room. The hundreds present went wild with excitement and she delivered the most wonderful speech in her own inimitable way which captured the hearts and minds of all those present. After this event, I was honoured further still to be able to host a private dinner for her with a few senior Conservative activists at The Ritz Hotel which was her favourite venue. I was somewhat starstruck but savoured everything she said to me, the advice she gave me together with the realisation of the huge magnitude of the person that was sitting next to me. It also became apparent to me at very close quarters what an amazingly kind, warm and compassionate lady she was. This private side of her was not often on display in front of the public eye.
Margaret Thatcher will be the standard against which politics is measured for decades to come. Her legacy lives on today – there is a political consensus around having a 'free market economy with a social conscience' as well put by Kenneth Clarke recently. Even Ed Milliband doesn't want to renationalise Pickfords Removal firm for example.  This legacy and what we build on it will last for many generations to come. She was the grandmother of the Conservative Party – a British icon, a world leader, a patriot, who gave freedom and choice to the British people, a sense of pride, aspiration and opportunity and always exhibited a deep and abiding love for Britain. These are all values that can be applied to today's circumstances. Thank you Lady Thatcher not only for what you did for our country and for the world but also for the inspiration you gave to millions of people like myself whether they are involved in politics or not. She gave the gifts of perseverance and a can-do attitude to so many. What greater tribute to her can we now give than to encourage those attributes to surface amongst as many people as possible so that they can all reach their dreams and aspirations.
She would have been so proud of her grandaughter, Amanda who delivered her reading at the funeral from St Paul's letter to the Ephesians VI, 10-18 with such strength, elegance and grace. What a wonderful ambassador for her grandmother as the new generations come forward.